Adirondack Mountains New York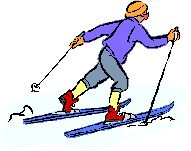 Link to Water Adventures
Link to Hiking
Link to Art & Antiques

Cross-Country Skiing in the

Adirondacks

"How about a little X-Country Skiing, Alexis?" "Well", you say, "I've always wanted to try that! I hear it's really good for you and not too hard to learn." And, you'd be right!



G

reen Mansions Golf Club, adjacent to our condos, is open to cross-country skiing, snow shoeing and snowmobiling, weather permitting, if you have your own equipment. The Clubhouse is open Thursday-Sunday with lunch, dinner and hot beverages. Below is a list of just a fraction of the cross-country facilities available for your enjoyment, as well as tips for making your North Country experience successful. We hope you will find this article helpful in making your plans for cross-country skiing & snowshoeing near Green Mansions and in the surrounding

Adirondack

Park

. Please Press Here for our Rentals page to find an accommodation.
Got new skis? If you've never been on skis before, forget about skiing for a few moments. Take some time to get used to your 'big slippers' by walking on them. If you need to take exaggerated steps to move your feet forward, so be it. Choose a flat piece of land and go for a stroll, picking your skis right off the snow as you would your feet off the ground. Then begin leaning forward and tilting left and right and start bending your knees a bit as you take each step. Don't worry about concepts such as" weight transfer" yet. Just get comfortable leaning over each ski. As you walk on the skis, concentrate on keeping their tips from crossing. Guide them straight and parallel. If you've ever been in a sack race when you couldn't move each leg separately, you'll appreciate the importance of not allowing one ski tip to step on the other. Also get used to the idea that your footwear has very little traction. Think of walking on a slippery floor with shoes. It's hard to describe just how your gait employs scoot-prevention, but if somebody tells you to watch out for the wet floor, you're just as likely to skid, but somehow less likely to fall because you're bracing for the sudden slide.
Thinking about instruction? When you aren't linking stylish turns, you still need to link skills, even for the most basic forms of skiing. Taking certified instruction at a Nordic center will help reassure you that your form is polished enough to take the next step. You may sail through the introductory steps of the diagonal stride, but if you start stalling on the up hills, an instructor can give you some optional drills you might never have tried on your own.

MENTION THIS ARTICLE AND RECEIVE 10% OFF REGULAR RENTAL RATES

Click here for Green Mansions Rentals

Cunningham's Ski Barn
1 Main Street, North Creek, NY 12853
(518)251-3215 (800)888-RAFT
25 km marked trails, warming station, rentals. Food available. Lessons available.

Gore Mountain
Box 470 Route 28, North Creek, NY 12853
(518)251-2411 (800)342-1234
11 km marked trails, warming station, rentals. Food available. Lessons available.

Garnet Hill Cross Country Ski Center
13th Lake Road, North River, NY 12856
(518)251-2150
54 km marked trails, warming station, rentals. Food available. Night skiing. Lessons available.

Adirondack Park Visitor Center at Paul Smiths
Box 3000 Route 30, Paul Smiths, NY 12970
(518)327-3000
17 km marked trails, warming station. Food available.

Adirondak Loj
Box 867 Adirondak Loj Road, Lake Placid, NY 12946
(518)523-3441
20 km marked trails, warming station, rentals. Food available. Lessons available.

Cascade X-C Ski Center
Box 888 Route 73, Lake Placid, NY 12946
(518)523-9605
20 marked trails, warming station, rentals. Food available. Night skiing (Saturdays only). Lessons available.

Cunningham's Ski Barn
Lake Placid Club, Lake Placid, NY 12946
(518)523-3706
25 km marked ski trails, warming station, rentals. Food available. Lessons available.

Mount Van Hoevenberg Olympic Center
Mount Van Hoevenberg Road, Lake Placid, NY 12946
(518)523-2811 (800)462-6236
50 km marked trails, warming station, rentals. Food available. Lessons available.

Wilderness and Unsupervised
Avoid the Hazards of Cross-Country Skiing Press Here for more info

Glens Falls International
10 km of trails groomed by volunteers, 5 km are lighted for night skiing
No trail fees; No ski lessons; No facilities Location: Crandall Park in Glens Falls Contact phone #: Inside Edge Ski Store, Queensbury 518-793-5676 Equipment rentals: Available at Inside Edge Ski Store

Saratoga Spa State Park
The Spa State Park golf course, is the perfect setting for the beginner skier to practice. If you ski into the valley carved by Geyser Brook, there is some good down-hills. All together, there are 20 kilometers of trails. Ski rentals, as well as individual and group instruction is provided in the complete ski shop. Saratoga Spa Park is located one mile south of downtown Saratoga Springs. The Park may be reached by traveling 3 miles north on Rt. 9 after taking exit 13N of the Adirondack Northway.

Siamese Ponds Wilderness Area
The principal Nordic skiing route runs approximately north-south from Thirteenth lake coming out on Rt. 8, about 4 miles west of Baker's Mills. It follows the Sacandaga River for most of its length. The Shanty Brook section off Rt. 8 goes over a shoulder of Eleventh Mountain. The descent down the north slope of this mountain is steep and is hazardous under frozen snow conditions. the remainder of the trail has generally easy grades. A side trail to the Siamese Ponds branches to the west about 4 miles from Rt. 8 an additional distance of 2 1/2 miles. The grades on this portion are steeper than the rest of the trail. There is a lean-to at this trail intersection. The total distance from the foot of Thirteenth Lake to Rt. 8 is approximately 12 miles. The northern terminus of the route is found by taking Rt. 28 to North Creek and then to North River. About 5 miles from North Creek and 1 mile beyond North River look for a road left, marked for Thirteenth Lake and for Garnet Hill Lodge. For the southern approach, take Rt. 28 to Wevertown and turn west on Rt.8. The sign for Shanty Brook and Siamese Ponds is about 10 miles west on Rt. 8 from Wevertown.

Lower Slopes of Crane Mountain
This is a short novice trail about 1 mile long from the trail head to the Crane Mountain Observers cabin. Take Rt. 28 to Wevertown, and turn west on Rt. 8. In about 1 1/2 miles reach Johnsburg, and turn south on South Johnsburg Rd. Follow this for approximately 7 miles to a right hand turn marked with a sign "Crane Mt. Trailhead." Continue for almost 2 miles and turn right again at a second corner similarly marked. Follow this road to the end, about half a mile.

Recommendations for Success
Try to match the difficulty of the trail to your level of ability, even to the ability of the least experienced member of your party. Select a destination that matches your interest.

Take advantage of the expertise of a licensed

Adirondack

guide and outfitter. They have extensive knowledge and can set you up with the proper gear.

Contact Adirondack Mountain Club,

Lake George

, NY - 518-523-3441 for detailed trail maps. Also contact Adirondack Park Visitor Interpretive Centers for additional information. Paul Smiths, NY - 518-327-3000 or Newcomb, NY - 518-582-2000.
Observe and enjoy wildlife and plant life but leave them undisturbed
If you've read this far, then you're seriously thinking about Cross-Country Skiing in the Adirondacks! Click below for a residence that will be the base camp for your group. Stay 2 or more nights and receive 10% discount off our super-low Winter Rates (book by January 15th). Mention "X-Country Skiing in the Adirondacks".