Welcome to the Private World of Green Mansions
Adirondack Leisure Home Living

Sales Link



For over 45 years, families and friends have been visiting us in the Adirondack Mountains, just minutes from Lake George, New York. Whether enjoying our pristine, lake-side beach, playing tennis, sharing adventures or relaxing in the seclusion of our private 600 forested acres. We offer Adirondack lodging at itís best...
Nearby Green Mansions Golf Club offers un-crowded tee times. A dozen more courses including the famous Sagamore Golf Club and Hiland Park are just minutes away. Try Tripp Lake for some real Adirondack fishing and canoeing. Adirondack hiking begins at Green Mansions and ends in the High Peaks of Lake Placid. Gore Mountain and Whiteface are close by, for a terrific Adirondack skiing adventure.
For the ultimate Lake George area lodging, our Adirondack condos, townhouses and homes offer private ownership of splendid Adirondack real estate and luxury resort vacations.
So, if you are looking for Lake George area Real Estate visit Green Mansions and start your family vacation tradition. For family summer vacation, a weekend getaway or designing your personal Adirondack lakefront vacation home, we invite you to join us in the best-kept secret in New York...Green Mansions.

Click Here for Full Directions
112 Green Mansions Road, Chestertown, NY 12817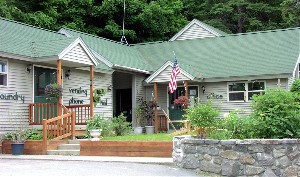 Green Mansions Office & Laundry

Our website has been designed to help you visualize our mountain retreat. And, since a picture is worth a 1000 words, our pages are filled with graphics and photographs. We appreciate your patience while pages are loading. If you have any problems or questions please PRESS HERE to contact our Webmaster.